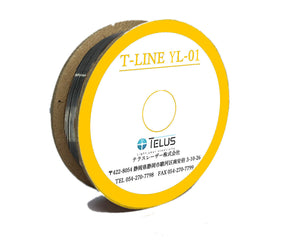 Download
Profile
Hardness
SDS
Chemical component chart
* Some price displays do not support Internet Explorer. Excuse me, but please use the recommended browsers: Google Chrome, Microsoft Edge, Safari. You can also browse the page with Internet Explorer.
YL-01
Available for chipping repair without generating the crack on cladding height over 0.5mm.
Used for repair for DC12/DC53/PD613/HPM31/SLD.
| Product number | Diameter | Unit | Regular Price | Select |
| --- | --- | --- | --- | --- |
| YL01-100571 | Φ0.1mm | 5m | ¥3,000 | Select |
| YL01-101071 | Φ0.1mm | 10m | ¥4,000 | Select |
| YL01-102071 | Φ0.1mm | 20m | ¥4,500 | Select |
| YL01-150571 | Φ0.15mm | 5m | ¥3,250 | Select |
| YL01-151071 | Φ0.15mm | 10m | ¥4,250 | Select |
| YL01-152071 | Φ0.15mm | 20m | ¥5,750 | Select |
| YL01-200571 | Φ0.2mm | 5m | ¥3,500 | Select |
| YL01-201071 | Φ0.2mm | 10m | ¥4,500 | Select |
| YL01-202071 | Φ0.2mm | 20m | ¥6,000 | Select |
| YL01-250571 | Φ0.25mm | 5m | ¥3,750 | Select |
| YL01-251071 | Φ0.25mm | 10m | ¥4,750 | Select |
| YL01-252071 | Φ0.25mm | 20m | ¥6,250 | Select |
| YL01-300571 | Φ0.3mm | 5m | ¥4,000 | Select |
| YL01-301071 | Φ0.3mm | 10m | ¥5,000 | Select |
| YL01-302071 | Φ0.3mm | 20m | ¥6,500 | Select |
| YL01-400571 | Φ0.4mm | 5m | ¥4,500 | Select |
| YL01-401071 | Φ0.4mm | 10m | ¥5,500 | Select |
| YL01-402071 | Φ0.4mm | 20m | ¥7,000 | Select |
| YL01-500571 | Φ0.5mm | 5m | ¥5,000 | Select |
| YL01-501071 | Φ0.5mm | 10m | ¥6,000 | Select |
| YL01-502071 | Φ0.5mm | 20m | ¥7,500 | Select |
| YL01-600571 | Φ0.6mm | 5m | ¥5,500 | Select |
| YL01-601071 | Φ0.6mm | 10m | ¥6,500 | Select |
| YL01-602071 | Φ0.6mm | 20m | ¥8,000 | Select |