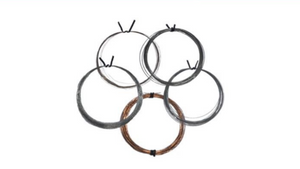 Download
SDS
Chemical component chart
* Some price displays do not support Internet Explorer. Excuse me, but please use the recommended browsers: Google Chrome, Microsoft Edge, Safari. You can also browse the page with Internet Explorer.
YAG
18%NiMaraging steel, used for a various thin-walled shape core pins.
Also, it rises up to 52~57 HRC after aging treatment.
| Product number | Diameter | Unit | Regular Price | Select |
| --- | --- | --- | --- | --- |
| YAG-100524 | Φ0.1mm | 5m | ¥2,500 | Select |
| YAG-101024 | Φ0.1mm | 10m | ¥3,500 | Select |
| YAG-150524 | Φ0.15mm | 5m | ¥2,500 | Select |
| YAG-151024 | Φ0.15mm | 10m | ¥3,500 | Select |
| YAG-200524 | Φ0.2mm | 5m | ¥2,500 | Select |
| YAG-201024 | Φ0.2mm | 10m | ¥3,500 | Select |
| YAG-250524 | Φ0.25mm | 5m | ¥2,500 | Select |
| YAG-251024 | Φ0.25mm | 10m | ¥3,500 | Select |
| YAG-300524 | Φ0.3mm | 5m | ¥2,500 | Select |
| YAG-301024 | Φ0.3mm | 10m | ¥3,500 | Select |
| YAG-302024 | Φ0.3mm | 20m | ¥5,000 | Select |
| YAG-400524 | Φ0.4mm | 5m | ¥2,800 | Select |
| YAG-401024 | Φ0.4mm | 10m | ¥3,500 | Select |
| YAG-402024 | Φ0.4mm | 20m | ¥5,000 | Select |
| YAG-500524 | Φ0.5mm | 5m | ¥2,800 | Select |
| YAG-501024 | Φ0.5mm | 10m | ¥3,500 | Select |
| YAG-502024 | Φ0.5mm | 20m | ¥5,000 | Select |
| YAG-600524 | Φ0.6mm | 5m | ¥2,800 | Select |
| YAG-601024 | Φ0.6mm | 10m | ¥3,500 | Select |
| YAG-602024 | Φ0.6mm | 20m | ¥5,000 | Select |