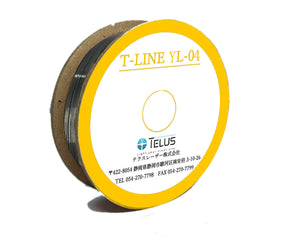 Download
Profile
Hardness
SDS
Chemical component chart
* Some price displays do not support Internet Explorer. Excuse me, but please use the recommended browsers: Google Chrome, Microsoft Edge, Safari. You can also browse the page with Internet Explorer.
YL-04
Recommended for chipping repair, but the crack is easily generated if cladding height over 0.5mm.
Due to the high strength and high hardness, better to be careful of welding crack.
| Product number | Diameter | Unit | Regular Price | Select |
| --- | --- | --- | --- | --- |
| YL04-100574 | Φ0.1mm | 5m | ¥3,000 | Select |
| YL04-101074 | Φ0.1mm | 10m | ¥4,000 | Select |
| YL04-102074 | Φ0.1mm | 20m | ¥4,500 | Select |
| YL04-200574 | Φ0.2mm | 5m | ¥3,500 | Select |
| YL04-201074 | Φ0.2mm | 10m | ¥4,500 | Select |
| YL04-202074 | Φ0.2mm | 20m | ¥5,000 | Select |
| YL04-300574 | Φ0.3mm | 5m | ¥4,000 | Select |
| YL04-301074 | Φ0.3mm | 10m | ¥5,000 | Select |
| YL04-302074 | Φ0.3mm | 20m | ¥6,500 | Select |
| YL04-400574 | Φ0.4mm | 5m | ¥4,500 | Select |
| YL04-401074 | Φ0.4mm | 10m | ¥5,500 | Select |
| YL04-402074 | Φ0.4mm | 20m | ¥7,000 | Select |
| YL04-500574 | Φ0.5mm | 5m | ¥5,000 | Select |
| YL04-501074 | Φ0.5mm | 10m | ¥6,000 | Select |
| YL04-502074 | Φ0.5mm | 20m | ¥7,500 | Select |
| YL04-600574 | Φ0.6mm | 5m | ¥5,500 | Select |
| YL04-601074 | Φ0.6mm | 10m | ¥6,500 | Select |
| YL04-602074 | Φ0.6mm | 20m | ¥8,000 | Select |